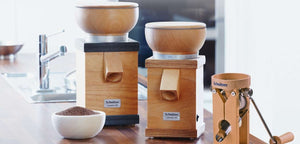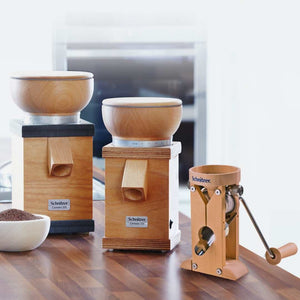 Die frischeste Art Vollkorn zu genießen
Mit den Schnitzer Getreidemühlen und Flockern könnt ihr zu jeder Zeit zuhause leckere und gesunde Speisen zubereiten und ihr wisst ganz genau, welche Zutaten enthalten sind.
Depending on your needs, you can make cereal flakes for porridge or muesli, fresh flour for breads and cakes, or freshly ground spices for exotic cuisine in no time at all.
Unterschiede Mühlen & Flocker
Mühlen
During milling, the grain is ground between two millstones. The distance between the grinding stones determines whether coarse meal or fine flour comes out of the mill.
Whole grains make sense!
5 gute Gründe für eine eigene Getreidemühle
1. Cereals are one of the cheapest staple foods and at the same time offer a nutrient richness that other foods have difficulty keeping up with.
2. Es ist das Gesamtpaket "Getreidekorn", das überzeugt!
3. Because each nutrient has its own place in the cereal grain.
4. Depending on your preferences, buy wheat, rye, spelt, barley, oats as organic whole grains and process them fresh as needed with your own mill.
5. Anything works, from meal and flake for daily fresh food to pancakes, fritters and rolls to the most elaborate bread creation.
There are no limits to the imagination and the variety of recipes.
Zu den Mühlen
GRATIS für Sie – bei Registrierung 5 Jahre Garantieverlängerung
Cerealo 100
The little one with the twist! With its quick-change interchangeable grinders, you can turn a grain mill into a mill for allergy sufferers without the so dreaded contamination of the ground product, even though you are using the same mill.
Jetzt entdecken
Cereals are among the most nutritionally valuable foods because they provide the many different nutrients, in good proportion to each other.
Spelt, wheat, rye and oats are available in Schnitzer organic quality in 10 kg paper bags.
Jetzt sichern
7 Jahre Garantie
Register your grain mill or flaker within 6 months of purchase and secure a free 5-year warranty extension in addition to your factory warranty!
Zur Garantieverlängerung
Fragen oder Probleme?
kontakt & Reklamation
Whether you have questions about our products, shipping conditions, a complaint or any other request, we are here for you!
Kontaktiere uns
Bedienungsanleitungen
Here you can find all operating instructions for our mills & flakers.
Zum Download