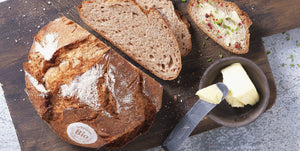 Wir können Vollkorn und das Besonders!
Schnitzer's realization that grain mills were needed for a domestic, wholesome diet was one thing. The other way to eat the milled grain is daily bread - the most important staple food of mankind. And so, from this realization, another line of business had opened up: The carver-partner baker license system. So a few classic artisan bakers around the then location of St. Georgen in the Black Forest began to bake Schnitzer organic wholemeal breads. A wealth of original Schnitzer recipes were created, all based on freshly ground grain directly in the bakery.
Today Schnitzer can count more than 80 Schnitzer partner bakers, who receive not only the recipes but also the raw materials for the production of the baked goods and carry the Schnitzer philosophy to the outside world.Our bakery department supports the partners with advice and support and regularly provides new product ideas and marketing materials.
Bausteine der Zusammenarbeit
Das Versprechen
Alle Schnitzer-Rohstoffe sind grundsätzlich natürliche Rohstoffe, ohne künstliche Anreicherung von Vitaminen, Mineralstoffen oder Ballaststoffen. Alle Schnitzer-Rohstoffe sind bio-zertifiziert. Schnitzer-Bäcker-Rezepturen ergeben reine Vollkornprodukte. Es wird ohne Einsatz enzymhaltiger Backmittel gebacken.
Der Anspruch
We enable an unrestricted focus on your passion for baking and traditional craftsmanship, coupled with the art of whole grain baking. The craft bakers are successful who implement their own concept. Our offer can be a part of this concept.
Die Zusammenarbeit
Unsere Zusammenarbeit ist kundenorientiert, unsere Arbeit passt sich der Individualität der Betriebe an.
Was immer gilt: Wir liefern qualitätskontrollierte Rohstoffe und erprobte Rezepturen, Sie backen mit Ihrem handwerklichen Können Ihr Schnitzer-Brot-Sortiment.
Die Möglichkeiten
Alle Schnitzer Partnerbäckereien haben eine eigene Getreidemühle zum Frischvermahlen der Getreidekörner.
In Ergänzung gibt es zwei Spezialmehle, die als Schnitzer 3.1 Weizen- und Dinkelvollkornmehl, die werterhaltenden Keimlinge enthalten.
Unter dem Stichwort "Alte Ähre" stärken wir mit Emmer, Einkorn und Waldstaudenroggen die Bio-Vielfalt auf dem Acker und damit auch in den heimischen Brotkörben.
Die Unterstützung
Unser Team für Sie:
Erfahrener Bäckermeister trifft auf anspruchsvolle Ernährungswissenschaftlerin.
Mit diesem Hintergrund entwickeln wir neue Rezepturen, bewerten Rohstoffe, erstellen Werbemittel und Arbeiten auf Wunsch bei Ihnen vor Ort.
Die Kunden
Aus langjähriger Erfahrung wissen wir:
Kunden schätzen die Brot-Kompetenz des Handwerk-Bäckers.
Für ein gutes Schnitzer-Brot machen viele Kunden gerne einen Umweg beim Broteinkauf.
Sie wissen, dass Ihr Schnitzer-Bäcker des Vertrauens ein Vollkorn-Könner ist.
Brot-Boutique Faller in Freiburg
Die Brot Boutique Faller, das ist Familie Gebel in Freiburg. Die Filiale in der Bertholdstrasse gilt für Vollkorn-Backwaren als Institution in der Fußgängerzone der Universitätsstadt im Breisgau. Brot Boutique Faller gehört zu den ersten Schnitzer-Partner-Bäckereien überhaupt! Als bereits langjähriger Bäckermeister im Betrieb übernahm Thomas Gebel die Bäckerei von Frau Faller. Er führt die Bäckerei mit seiner Frau Andrea. Die nächste Generation arbeitet ebenfalls schon im Betrieb.
Bäckerei Trefz
Ein traditionsreicher Familienbetrieb, der seit über 100 Jahren in Unterweissach im Tal Backwaren frisch herstellt. Heute arbeiten drei Generationen im Betrieb. Gretel und Günther Trefz haben vor 35 Jahren zusätzlich die Herstellung von Schnitzer Bio & Vollwert-Backwaren eingeführt. Tochter Claudia, gelernte Konditorin und Ihr Mann Uwe Müller (Bäckermeister) führen heute den Betrieb. Die Kinder Marco und Kim leben die Bäckertradition in der Familie fort und arbeiten als angehender Bäckermeister bzw. Konditorin in der Bäckerei mit.